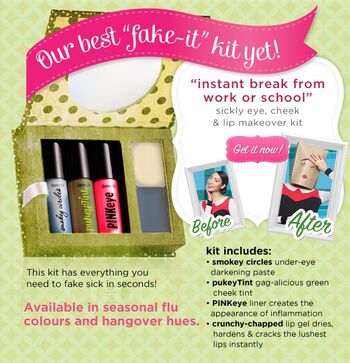 The "Fake-It" Kit is not a genuine product from Benefit. It was made just for and "April Fool's Day" Joke.
Description
Edit
If you've missed our April Fool's prank, check out our best fake-it kit yet! It's an instant break from work or school...sickly eye, cheek & lip makeover kit!! Available in seasonal flu colours & hangover hues. xx
Smokey Circles (Under-eye darkening paste)
Pukey Tint (Gag-alicous Green Cheek Tint)
Pink Eye (Liner creates the appearance of inflamation)
Crunchy-Chapped Lip Gel (Dries, hardens and cracks the lushest lips instantly)
The box is a replica of the Realness Of Concealness Kit. However it is a green version.
Smokey Circles is the opposite of the Erase Paste concealer.
Pukey Tint does the exact opposite of Bene,Posie and Cha Cha Tint.