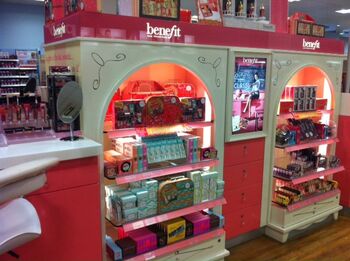 The Chichester counter is located in Boots.The exact location is High Street, Chichester in West Sussex. Their phone number is: 01243 782082. The counter was open since 2010.
Beauty Services
Boots Chichester offer beauty services such as: Makeuppers and Facials.
Events and Parties
Christmas 2012 Gifts Launch Party
Fine One One Launch Party
"The Lovely Kim needed her make-up done for her Birthday Bash Space Party! We think she looked AMAZING!"
Sophia used: Hello Flawless Powder, Prrrowl, and Magic Ink.
Colour By Benefit Party
Workers
Becky Ball
Bonnie Leigh Curtis
Lara Galliford
Sophia Palombo
Miu
Emma Louise Neil
References