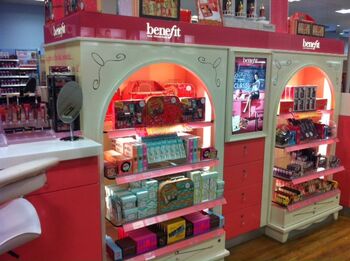 The Chichester counter is located in Boots.The exact location is High Street, Chichester in West Sussex. Their phone number is: 01243 782082. The counter was open since 2010.
Beauty Services
Boots Chichester offer beauty services such as: Makeuppers and Facials.
Events and Parties
Christmas 2012 Gifts Launch Party
Fine One One Launch Party
"The Lovely Kim needed her make-up done for her Birthday Bash Space Party! We think she looked AMAZING!"
Sophia used: Hello Flawless Powder, Prrrowl, and Magic Ink.
Colour By Benefit Party
Workers
Becky Ball
Bonnie Leigh Curtis
Lara Galliford
Sophia Palombo
Miu
Emma Louise Neil
References
Ad blocker interference detected!
Wikia is a free-to-use site that makes money from advertising. We have a modified experience for viewers using ad blockers

Wikia is not accessible if you've made further modifications. Remove the custom ad blocker rule(s) and the page will load as expected.